The New Myspace
5 Familiar Features of the New Myspace
The original social network is getting a brand-new look. Online now is a preview of the updated Myspace, a gorgeous — and strikingly familiar — transformation of the once top social site. It's not available to the public just yet, but from what we've gathered in the teaser trailer, big changes are to come. Take a look at five major revamps to the site, many of which, we observed, aren't exactly new; but who knows, maybe Myspace will repurpose them for the better.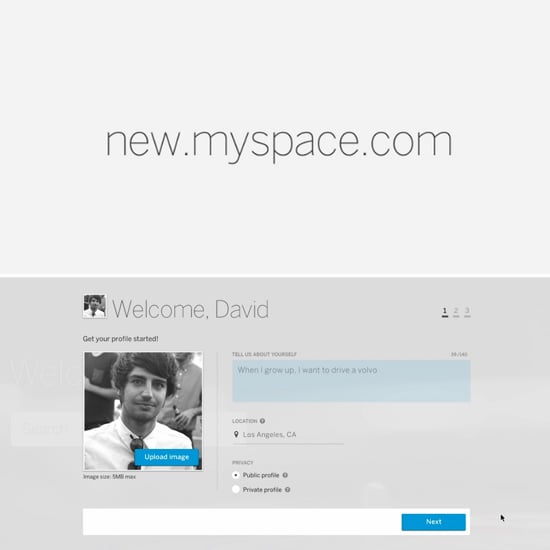 Justin Timberlake, Lots of Justin Timberlake
Speaking of nostalgia, the former boy band-er is bringing Myspace back in full swing, as the co-owner and public face of the company. Not that we're complaining.
Read on for more features of the new Myspace and watch the teaser trailer after the jump.
Facebook
Facebook surpassed Myspace as the world's most popular social network in 2008 and since then has grown above and beyond every social site on the web. Hoping to attract some of Facebook's user base, Myspace has integrated users from the big blue platform into its own.
The Stream
As seen in the photo comparison below, Myspace's new user profiles and "stream" (essentially a timeline of friends' activity) are organized into a Pinterest-style collage of large photos and text boxes in various sizes.
Pinterest

Myspace
The Design
Compared to Myspace's current look, the network's minimalist makeover is a site for sore eyes. Microsoft, another former tech giant looking to update itself, took the same approach in adopting a cleaner design for its mobile operating system driven by large, bold graphics and a rounded serif font family.
Microsoft Windows 8

Myspace
The Social Music Streaming Experience
Music continued to be Myspace's stronghold, even after its decline. Ever heard of The Arctic Monkeys, Soulja Boy, or Lily Allen? These artists made it big because of Myspace and, moving forward, its success in music will be the primary distinction between Myspace and other social networks. The company has updated its music platform to resemble popular online music subscription services like Spotify and Rdio.
Rdio

Myspace
Watch the redesign in action below and let us know — will you sign up for the new Myspace?