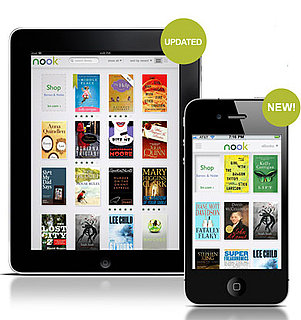 Less than a month after introducing an Android App, Barnes and Noble has released a completely revamped version of their apps for iPhone and iPad. The iPad app now includes a familiar one- to five-star rating system, and the ability to sort by ranking.
The improved iPhone app ads some of the best functionality from its iPad counterpart, allowing users to completely customize the look of their pages or choose from several professionally-designed themes. Additionally, you can change font styles, size, and spacing for the best reading experience possible. The iPhone app is optimized for viewing on the iPhone 4's retina display screen, but will run with the same functionality on older iPhones.
For more on the apps' new features, keep reading.
Both apps take advantage of the Nook's "LendMe" feature, which allows Nook and Nook app users to allow friends to "borrow" their books for up to two weeks at a time. And books purchased in the Nook store are available across every device registered to your account; sync your books with your Nook, iPhone, iPad, Android device, or computer to read them anywhere! Download the free app for your device at bn.com/nookapps.