New Star Tours at Disneyland
3 Reasons to Brave the Star Tours Lines This Summer
Fresh from a year-long redesign, Star Tours: The Adventure Continues opened to the general Disneyland California public over the weekend — just in time for the Summer season . . . and crowds. Fear not Star Wars fans, here are three reasons those long lines may be worth the wait.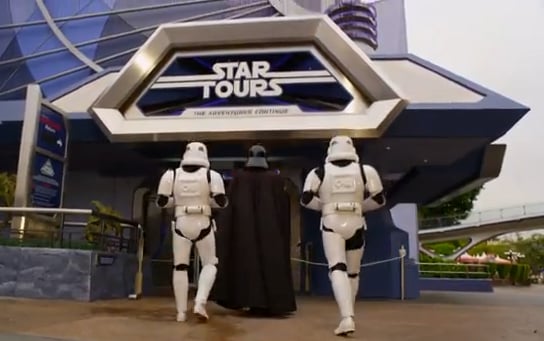 Guests can experience 54 different story lines in six possible destinations, including Tatooine and Hoth, so it's unlikely to experience the same adventure twice.
With a 21st-century makeover, Star Tours now boasts 3D video (riders wear 3D glasses), HD screens, and an increased range of motion for the in-flight simulator.
Stories bridge both Star Wars trilogies, so expect to run into both classic and newer characters. The upside? C-3PO is your co-pilot. The downside is Jar Jar Binks may stumble on the scene.
A must-have Star Tours app, and watch Darth Vader as he hops on a few Disneyland rides after the jump.
Before heading to either of the US Disney parks, download the Star Tours Live app, which tracks line wait times. Finally, check out Darth Vader and his loyal Stormtroopers join the Star Tours festivities in Disney's newest park ad.