New Twitter Redesign
Twitter Launching Major Redesign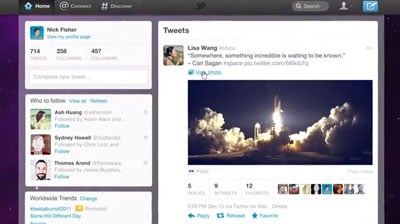 During a small press gathering this morning,
Home
The "Home" tab is where you'll find your main content on Twitter. Your stream will now be on the right-hand side of the page, while your tweet box, followers, and trending topics will be on the left. Photos and videos will be embedded into your stream for easy access (you can play YouTube videos without leaving your stream, even viewing in full-screen mode), and you will also be able to expand each tweet to see all retweets and favorites for that particular tweet.
Learn more about the "Connect" and "Discover" tabs on the new version of Twitter (and them in action) after the break.
Connect
The "Connect" tab is where you'll find all of your @replies, mentions, retweets, and new followers (similar to the current activity tab). It will give you an overview of who's talking about you so you can chime in.
Discover
The "Discover" tab is where you'll expand your Twitter horizons. Located on the top left box, there are several components to the Discover tab. The "Stories" section is similar in nature to Facebook's "relevant stories" option, in that it takes into account your location, people you follow, and trends to feed you information and various tweets that you might be interested in. If you're constantly tweeting about gaming, for example, Twitter will populate this section with tweets about video games and industry insiders, as well as other popular topics from around Twitter. In the "Activity" section, you can see who your "connections" (or the people you follow) are following and what they are tweeting about, and in the "Who to Follow" section, you'll see smart recommendations on who you should be following based on your interests and connections. The "Find Friends" and "Browse Interests" sections are similar to what they are now, just in a more clean and organized layout.
See the new Twitter in action in the demo video below!