New Twitter Update Conversations
Coming to a Twitter Stream Near You: Conversations
In its seventh year, Twitter is growing up a little more this week, now allowing users to follow a tweet conversation without clicking into a thread to find out what, oh what, a pal's @ reply to another friend could be about. No more coming late to the Twitter party for you. In the latest version of the Twitter iPhone and Android apps, along with Twitter.com, users will now see a vertical line linking tweet replies within the same conversation.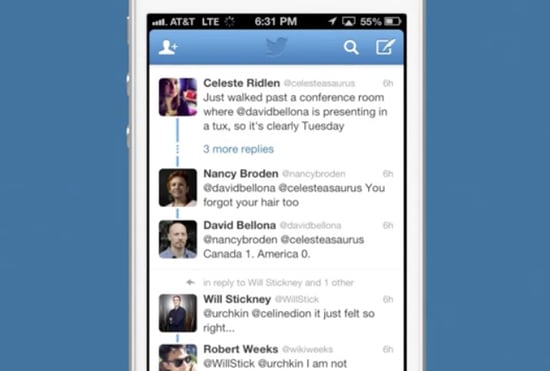 Up to three tweets will be displayed of a conversation in your stream, so it isn't overrun with back-and-forth quips between friends or, for that matter, a lengthy Twitter debate. To see the chat in full, click on one of the tweets, just as you once would to see any part of a discussion before conversations was added. This does mean you may see a tweet sent hours ago appear next to those sent three minutes ago, if it's part of the linking conversation.
In addition to making conversations easier to follow, you can now share tweets via email on the iOS and Android apps or by direct message on the Android app only. Twitter for iPhone also lets users report abusive or spammy tweets, a feature that'll be coming soon to Android users.
Some Twitter users are upset with the change, finding the chronology change and peek into followers' conversations disruptive. We're a bit excited to see users interact with each more and join in on interesting topics.
What about you: are you loving or loathing the updated Twitter stream?