New Update For Skype iPhone App
Skype iPhone App Gets an Update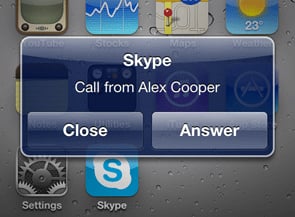 The last time Skype released an update to its iPhone app, the company added the ability to make calls over 3G, but decided to charge for the privilege. Now, a new update reverses that decision, allowing 3G calls over Skype for no charge. The new Skype 2.0.1 also supports multitasking, meaning that you can make and receive Skype calls while other apps are running or when your iPhone is locked. Plus, you can run other apps during a call — similar to how you're able to check email while using your iPhone as an actual phone.
Hear more about the new update after the jump.
Additionally, it's a notable update because Skype had not yet begun to charge for 3G usage; after introducing the update in May, the company offered the 3G calling function as a "free preview," telling users they'd have to pay subscription fees starting in August. The latest update, which obviously does away with the subscription model, may be an preemptive answer to Apple's FaceTime — though face-to-face calling isn't yet available for Skype on the iPhone, I expect that update won't be far behind.