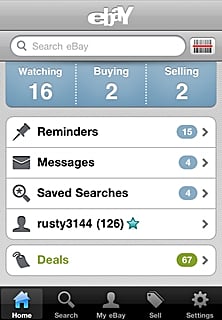 eBay has recently launched a new version of its iPhone app, just in time for the holiday season. Earlier this year, eBay launched several iPhone apps, and now it's offering a simple, streamlined eBay bidding experience on the iPhone.
The new app consolidates the buying and selling functions previously available in separate apps. Search and browse through listings, bid on items, even pay for items through your phone. A new watching, buying, and selling Quick View offers users a simple home screen with quick access to profiles and feedback. Also included: quick access to PayPal for payments and daily deals, saved searches, reminders, and color customization.
Starting today, you can download the new app for free in the iTunes Store.