New Yahoo Homepage
Yahoo's Brand-New Look Debuts Today
Less than a year after former Google employee, Marissa Mayer, took the reins of Yahoo as CEO, the company unveiled a shiny, new homepage today. With an infinite scroll newsfeed and polished look that is much less cluttered than the old view, Yahoo hopes the makeover will have its landing page once again become your home site.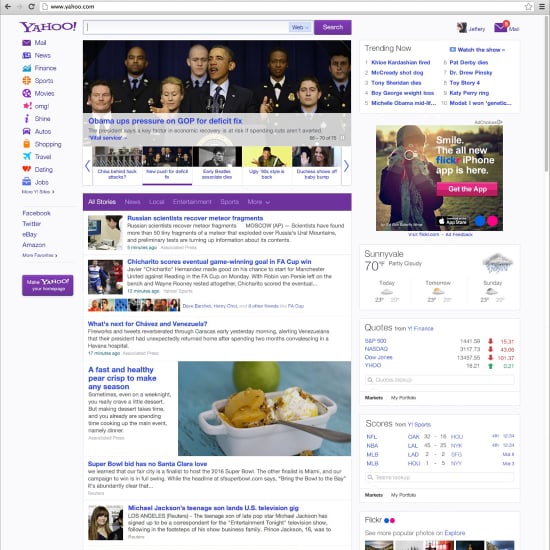 So what's different other than the surface change?
Facebook sign-in — If you have a Yahoo account go ahead and sign in with that, but as of today, you can also sign in to Yahoo with a Facebook account. The site will also pull in Facebook friends' birthdays, so there's no way of forgetting the occasion, and show you stories recommended by those same pals.
Flickr sidebar — Peep the latest Flickr uploads in the lower right hand corner of the page.
Customizable newsfeed — Instead seeing a round down of the day's biggest news, you can now select which topics you'd like to see in the feed. More sports coverage? Done! Only care about business news? You got it.
For Android and iOS users, Yahoo also gave its mobile site a more touch-friendly experience, which you can take a look at after the break.
Will you use the new Yahoo?