Many have often lamented about the confusing and unfocused look of the YouTube homepage, but now users will be greeted with a brand new homepage that focuses more on what you like, and less on what you don't. The entire page has gotten a sleek makeover, much in the way of Google+, which makes videos easier to find.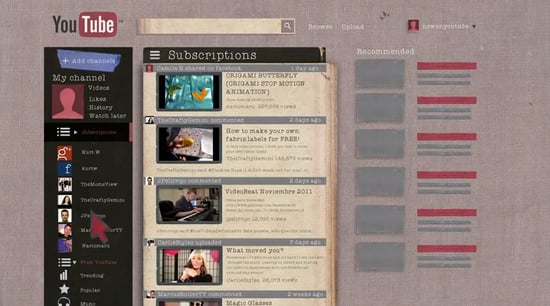 The left-hand side of the homepage will now be your hub for your subscriptions, connections, and where you'll find the trending and popular videos of the day, along with the various categories to browse through (like music, entertainment, etc.). The center of the page will feature your subscription feeds and recommended videos.
Channels have also gotten an upgrade, allowing YouTubers to customize what is featured on their channel pages with templates, showing off playlists, featured videos, latest videos, and more. Plus, you can now see a channel's feeds, which includes anything the creator has uploaded, liked, favorited, or commented on, and perform keyword searches on specific channels.
Get a better look at what the new homepage holds in the demo video from Google after the jump.