New iMac and Trackpad Details
Apple Updates Mac Pro, iMac, Displays; Introduces Trackpad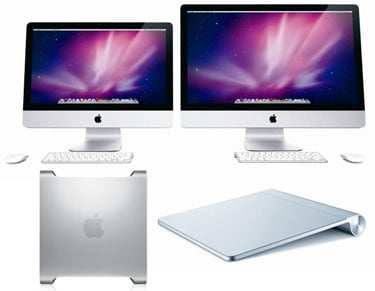 Most of yesterday's speculations came true this morning: Apple unveiled updates to not only its line of Mac Pros, but also its iMacs and Cinema Displays, while introducing the new Trackpad. Although the iLife and Apple TV rumors are still just that, we can get down to the details on the new refreshes. Take a look below for a full rundown.
27-inch LED Cinema Display ($999)
Built-in iSight camera, microphone, and speakers
16:9 aspect ratio, 2560 x 1440 resolution
Glass and aluminum, 178 degree viewing angle
Three USB 2.0 ports, Mini DisplayPort, and Magsafe charger
Ambient light sensor
Available in September
Mac Pro ($2,499 and up)
Now with up to 12 processing cores and 50 percent greater power
Expandable up to 32GB of RAM, up to 2TB hard drives
Five USB ports and Four FireWire
Available in August
To learn more about the iMac refresh and the new Apple Trackpad, just keep reading.
iMac ($1,199 and up)
Comes with either a dual-core Intel Core i3 and Core i5, and quad-core Core i5 and Core i7 processors
SD card lot supports SDXC memory cards
21.5- and 27-inch options
Expandable up to 16GB RAM, 2TB hard drive
Four USB ports
Available now
Trackpad ($69)
Brings multitouch gestures from your MacBook to your desktop
Glass trackpad that allows pinch and zoom, scrolling, rotate for photos and images
Single or double button commands, single- or double-tap, and click
Choose MagicMouse (free) or Trackpad (for additional charge) when ordering an iMac or Mac Pro
Available now