New iPad 2012 Facts and Rumors
New iPad: Fact vs. Fiction
Rumors run rampant about new tech products, especially when it comes to Apple. There's no shortage of gossip around Apple launch dates (or estimated launch dates), and while it's fun to imagine what the next shiny product will look like, you sometimes forget where the line between rumor and fact is drawn. Here, we'll look back at the recent iPad rumors and explore which ones were fiction and which ones became a reality.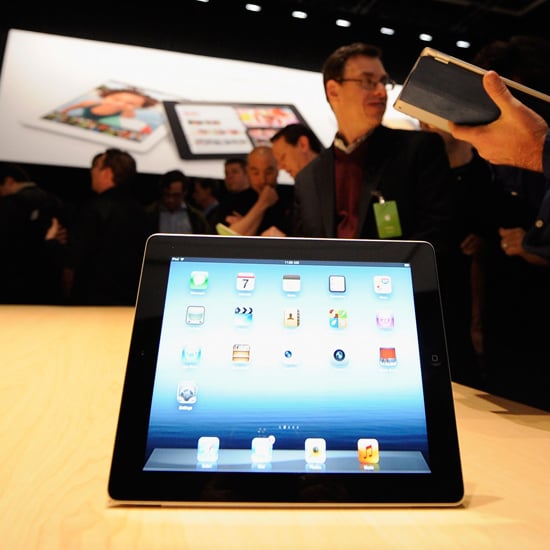 Rumor: It will be called the iPad 3 or iPad HD
Fact: The new iPad is simply called iPad. No numbers or letters attached, because Apple "doesn't want to be predictable."
Rumor: It will come with 4G LTE speeds.
Fact: It sure does! Offered up through AT&T, Verizon, Telus, Rogers, and Bell, the new iPad will come in two flavors: WiFi-only and WiFi + 4G.
Rumor: It will have a better camera.
Fact: Indeed. The new iPad comes stocked with a 5MP rear-facing iSight camera and a forward-facing VGA cam, vs. the iPad 2's HD rear-facing and VGA forward-facing.
See the rest, including the truth about a cheaper iPad after the break.
Rumor: It has gained some weight.
Fact: True story. The new iPad is 1mm thicker than the previous iPad, which may make upgrading and keeping all your cases a little tricky.
Rumor: The next iPad will sport a Retina display.
Fact: The new iPad does, in fact, have an incredible 2048 × 1536 Retina display, exactly the resolution that was expected.
Rumor: The next-gen iPad will have longer battery life.
Fact: The new iPad did not get a bump in battery life. It will still provide 10 hours of surfing, video-watching, and photo-viewing time, which is the same as the iPad 2.
Rumor: There will also be a cheaper "mini iPad."
Fact: There are no 7-inch iPads to speak of, and there probably won't be, either. Though there is a sub-$400 iPad on the market — it's called the iPad 2!