New iPad at Apple Store Opening Times and Tips
The New iPad Goes on Sale Tomorrow at 8 a.m.: Camping Tips to Keep You In Line
The new iPad with the fancy high definition Retina display goes on sale tomorrow, and if you didn't get your preorder in, you'll have to battle the crowds if you want a new tablet on day one. But standing outside for hours (or overnight, if you must) isn't an easy task. Should you go for it? Prepare and keep yourself entertained, hydrated, and safe with these iPad line camping tips.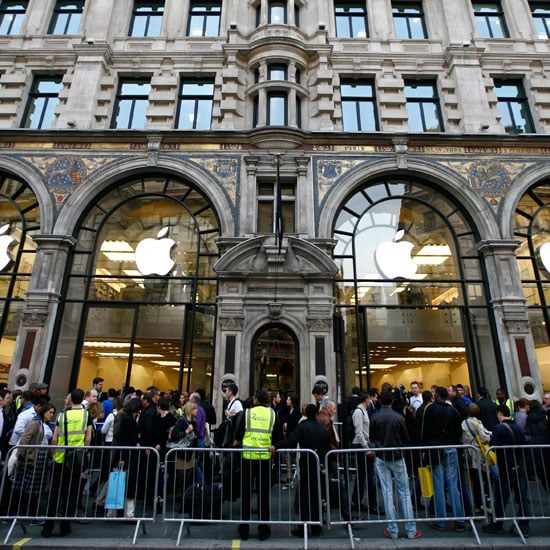 Do some recon — Scope out your local Apple store, AT&T retailer, or other launch-day location and use Google Maps to pick out a prime spot, preferably with shade and/or overhead coverage.
Know when to arrive — Apple stores will open at 8 a.m. on Friday, March 16, while AT&T and Verizon stores have also been known to open doors early to greet tired Apple fanatics.
Bring some reading material — Load up your ereader with some books you've been meaning to tackle — you'll be in line for a while!
Keep your gadgets charged — With all these gadgets you're toting along, you're going to need some juice. Obviously, you'll be far from an outlet, unless you post it up in Starbucks while someone saves your spot. Keep your gadgets charged with a solar charger by day, so you can power them through the night.
Get the rest of our tips after the break.
Keep your tech safe — Who knows what kind of riffraff will be prowling the iPad line waiting for the anxious geeks to nod off! Don't let anyone gank your gadgets — use the Zomm Bluetooth Wireless Leash Plus ($90) that alerts you when your gadgets are more than 30 feet away. Bonus — you can also use it as a wireless speaker and personal safety device.
Don't get hungry — Prior to your iPhone urban camping trip, use Eat 24 to see which takeout joints are open for an all-night food fest. Then call and see if they'll deliver to the iPad line. Ask nicely, tip big, and you may be surprised!
Hire a sitter — If you can't stand the idea of sitting all night waiting for an iPad, hire a line sitter to do the dirty work for you. You should see these kinds of odd jobs popping up on Craigslist soon.
Get some cash back —The iPad Gods have smiled upon you, and you go home with a brand-new iPad! Congratulations! What are you going to do now? I have some tips on how to get top dollar by reselling your iPad or iPad 2, or you could skip all that and get up to $320 back from Apple for your iPad 2 when you trade it in.