New iPad Mini 2013
New iPads on the Way? What to Expect From Apple's Launch Event
Apple's launch event, during which the company is believed to announce new iPads, is today! The festivities will take place at Yerba Buena Center for the Arts in San Francisco and are set to begin at 10 a.m. PDT.
Stay tuned right here for more information on how to live stream the keynote and updates on the new products. But until then, let's review what tech press has to say about what to expect when you're expecting tablets.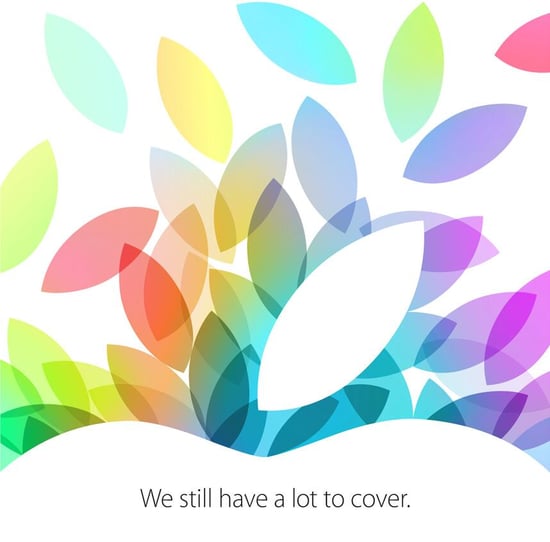 iPad Mini
iPad Mini with Retina — The current iPad Mini has a 1024 x 768 resolution display, which is the same screen quality as the iPad 2. In August, Bloomberg confirmed reports that an "iPad Mini with a high-resolution screen" will be released later this year.
iPad Mini . . . C? — The colorful, polycarbonate-backed iPhone 5C lowered the price point of Apple's bestselling iDevice, and, in a report published by MacRumors, a KGI Securities analyst said that the October launch may see a more affordable version of the iPad Mini as well, which could be paired with color options beyond black and white.
iPad 5
iPad Mini-like iPad — The next full-size iPad will look a lot like the slimmed-down iPad Mini, says The Wall Street Journal. The same film-based touch panel in the Mini could be used in the iPad. The black frame around the iPad's screen will also be slimmed down.
8MP rear camera — KGI Securities analyst Ming-Chi Kuo believes that both the fifth-generation iPad and iPad Mini will include 8MP rear cameras with larger aperture, up from 5MP in the current version.
Wildcards
A new Apple TV — It's been over a year since the Apple TV received an update. Plus, with shipment records spotted of a "set top box" being sent to Apple, we're ready to see something fresh for that little black box.
The iWatch — Apple filed for a curious patent in February that spurred rumors of a wearable device similar to a smartwatch. ReadWrite believes that the concept is very real, but a Fall launch may be too early for the device, which is apparently made of curved glass. Perhaps the company will offer a preview of the new tech, as it did with the Mac Pro in June, especially since Samsung announced its own smartwatch, the Galaxy Gear, in September.