New iPad Specs and Details
Full Spec Details of the New iPad
The new iPad was announced today — will you buy it or skip it? While the main upgraded features were detailed at the event, the full specs were kept out of the spotlight. The Apple store is finally up and running, so we can get a good look at other changes or upgrades coming with the new iPad. Interested? Get the details about all the specs that matter to you below.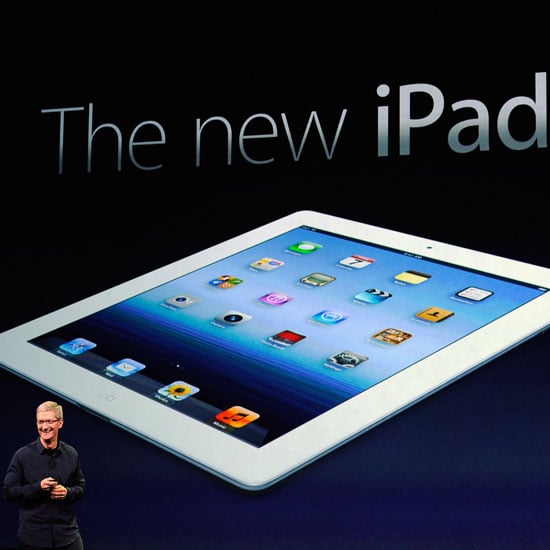 Body
The new iPad comes with a 9.7-inch display and is just 0.37-inch thick. It weighs just under a pound and a half.
Display
It's safe to say that Apple's Retina display is a game-changer, and now it's even better on the new iPad. Coming with a screen resolution of 2048 x 1536, you'll have more screen coverage and pixels-per-inch than your 1920 x 1080 HDTV. What does this mean for you? Incredible picture quality, whether you're watching a movie, flipping through photos, or playing a game.
Cameras
The new iPad comes with two cameras — a 5MP iSight rear-facing camera that shoots 1080p video with its ƒ/2.4 aperture and a five-element lens, and a VGA-quality forward-facing camera for Facetime and video chatting. Camera features include autofocus, tap to focus, and video stabilization.
Learn more about the battery life, new Dictation features, and data plan pricing after the break.
Battery
The new iPad touts a 10-hour lifespan when using WiFi, watching a video, or listening to music, and up to nine hours when connected to a cellular network.
Voice Dictation
Siri wasn't included in the new iPad, but Dictation comes close to that experience. Allowing you to dictate emails, texts, messages, notes, reminders, appointments, and even play nice with third-party apps, you can spend less time typing on the touch keyboard and more time being productive.
Power
The new iPad comes with quad-core graphics processor and an A5X chip, which brings the new Retina display to life and ensures that your iPad runs smoothly and quickly no matter what apps, movies, or games you're running.
Price and Carrier Details
The new iPad will be available in three flavors (16GB, 32GB, and 64GB) on two different networks (AT&T and Verizon), and will come in two models (WiFi-only and WiFi + 4G) on March 16. Prices are as follows:
WiFi-only
16GB — $499
32GB — $599
64GB — $699
WiFi + 4G
16GB — $629
32GB — $729
64GB — $829
Good news if you're on a budget: a WiFi-only iPad 2 is now $399!
So far, AT&T and Verizon's websites have not indicated a change in plan pricing. Data plans are as follows:
AT&T
250MB — $15/month
3GB — $30/month
5GB — $50/month
Verizon
2GB — $30/month
5GB — $50/month
10GB — $80/month