New iPhone 5 Features
Apple Introduces the iPhone 5 (Almost All the Rumors Were True)
Today in San Francisco, Apple revealed its latest smartphone, the iPhone 5, and after a Summer following spec leaks and rumors, it looks like most of the Internet speculation was right on. Made entirely of glass and aluminum, the Retina display iPhone 5 is taller than its 4S predecessor, with a four-inch display. What Apple claims as the "world's thinnest smartphone," the iPhone 5 is 7.6mm thin and weighs 112 grams, which is 20 percent lighter and 18 percent thinner than the iPhone 4S.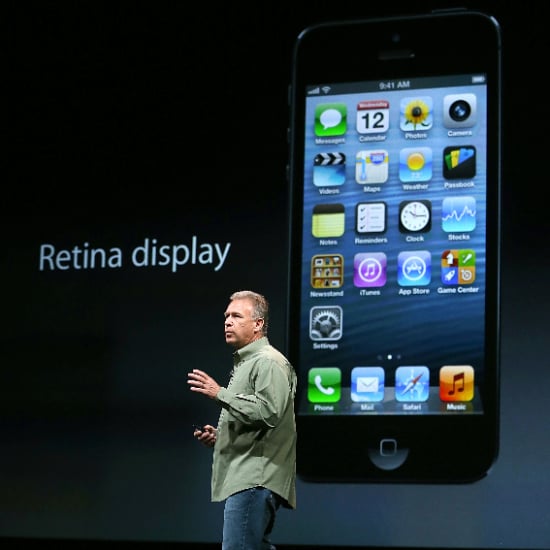 A longer display adds an extra fifth row of app icons to the home screen, and Apple says current software won't stretch unnaturally to fit the new 1136 x 640 HD screen resolution and close to a 16:9 widescreen aspect ratio. As leaked on the Apple website before the press conference, the iPhone 5 offers super-fast LTE wireless connectivity. Apple promises an eight-hour battery life of talk time or browsing on 3G or LTE and a 10-hour battery life on WiFi browsing.
Keep reading for more on the iPhone 5 camera, the new connector, and pricing.
The iPhone 5 has an 8MP camera with improved low light mode performance, built-in panorama mode, 1080p video resolution, and the ability to take still photos while shooting video. The front-facing camera also received a bumped-up HD 720p resolution.
One of the most persistent iPhone 5 rumors was a smaller dock connector, and Apple confirmed reports with the introduction of the Lightning connector. It's an all-digital, eight-signal design and 80 percent smaller than the connectors all iPhone customers have used over the last five years; adapters will be offered for accessories that use the 30-pin connector.
Available in three models — 16GB for $199, 32GB for $299, and 64GB for $399 — iPhone preorders begin Friday, Sept. 14, and ship Sept. 21. Now that the iPhone features have been confirmed, do you plan to upgrade to the latest Apple smartphone?