New iPod Details
Brand-New iPod Shuffle, Nano, and Touch Available For Preorder Now
During today's Apple event, Steve Jobs announced all new designs for every iPod — the biggest design overhaul in iPod history.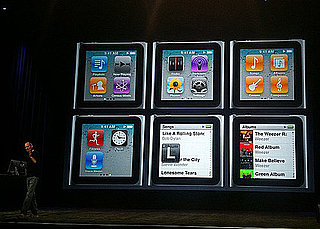 iPod Shuffle
The latest Shuffle is a combination of all of the best features from the previous three models; while the last version of the Shuffle was missing buttons, the newest version brings back the familiar controls from the second-generation shuffle, but in a smaller, more compact design. The newest Shuffle also features all of the loved features from the most recent generation: voice over that tells you what you're listening to and when the battery needs to be charged, and playlists (including the introduction of Genius Playlists) that sort your music for easy listening on the go. The new Shuffle supports 15 hours of music and comes in five colors. It'll cost you $49 for 2GB of storage.
The new Nano and iPod Touch are even more exciting — find out details after the break.
iPod Nano
The newest Nano is completely redesigned with a multitouch interface and is unbelievably small — so small it features a clip similar to the Shuffle (no more armbands!) The latest Nano is 46 percent smaller and 42 percent lighter than the previous model and includes FM radio, Nike+, and a pedometer; its multitouch interface supports 29 languages, and the device has an impressive 24-hour audio life. The screen rotates in four directions for maximum portability and comes in the same five colors as the latest Shuffle, plus graphite and a projectRed model. The newest Nano costs $149 for 8G and $179 for 16G.
iPod Touch
The iPod Touch has surpassed all other iPod models to become the most popular iPod model, and has also become the most popular portable gaming device in the world. The newest iPod Touch is even thinner than the last and includes Retina display and Apple's A4 chip. And, yes, the newest iPod Touch will include a front-facing camera and support FaceTime, plus a rear-facing camera with HD video recording. The newest iPod Touch has 40 hours of battery life and costs $229 for 8GB, $299 for 32GB, and $399 for 64GB.
The newest iPods are available for preorder today and will be available in-store next week.