New iPod Nano Details
5 Reasons to Love the New iPod Nano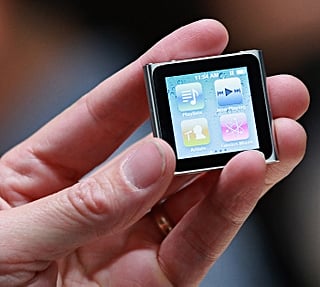 One of the most exciting parts of yesterday's new iPod announcement was the introduction of a completely redesigned iPod Nano ($149). Gone is the traditional Apple click wheel — the iPod Nano now features a large multitouch screen to organize and play your favorite music.
I was impressed and to prove it, here are five reasons it's worth preordering a new iPod Nano:


It's smaller, lighter, and more portable than any other Nano. The latest generation is nearly half as big and weighs nearly half as much as the previous iPod Nano. And it features a Shuffle-like clip to attach it to your jacket, shirt, pocket. . . whatever. No more armbands!
A rotating screen keeps controls accessible. The iPod itself clips onto you easily, so to make the controls easy to reach, images on the square screen rotate when you turn them using two fingers. There's no motion sensor, so the screen won't flip back around like an iPhone's if you move the Nano. You can position the screen completely upside down while it's clipped to your pocket, or sideways when it's clipped to a shoulder strap.
Find out the rest of the reasons I heart the new Nano after the break.
Its 30-pin plug keeps it adaptable. Even though the size has been dramatically decreased, the Nano still features Apple's traditional 30-pin connection, so it'll work with existing docks, adapters, and other accessories that use the connection. No new accessories needed!
It holds a serious charge. The new Nano has up to 24 hours of playback time without needing a charge.
It's customizable. One benefit of the touch screen is the ability to position the different controls exactly as you want them. Customize it for quick access to playlists (including the new Nano inclusion Genius Playlist), podcasts, photos, and more.

Are you planning to pick one up?