New iPod Nano Review
New iPod Nano: It's All That With a Touchscreen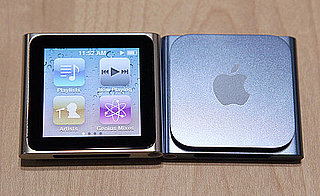 After last week's Apple music event, I gushed about how amazing the new Nano was, and even why it's the best iPod for avid runners. But if you can believe it, once I got my hands on the new Nano, I'm even more head over heels for the gadget. Here's why:
Like all Apple products, even the packaging is pretty. The Nano comes in a small, compact box containing the iPod, a set of headphones (exactly the same as previous generation headphones), and a connective USB cable. One note: the new Nano works only with iTunes 10, so if you're planning to pick one up, be sure to update your iTunes software.
Check out more photos and the rest of my review after the break.
Setting up the new iPod is the same, too. You're prompted to register (which you can skip) and then choose basic settings, like whether to sync all of your music and photos on the iPod or manually select songs to add. Once you're synced and ready to go, the touch screen is easy to get used to if you're familiar with other Apple products. If it's your first Apple touchscreen, you may notice a bit of a learning curve until you get used to the interface. Navigate through your music collection by song, artist, album, or genre. Scrolling down the right side of the screen brings up the alphabet for quickly navigating through the collection, while scrolling down the left side of the page will take you more slowly through the list of artists or tracks.
While a song is playing, tap once for play, pause, forward skip and backward skip controls. Tap once and swipe left for the ability to create a Genius playlist or shuffle songs.
Other notable software features include a pedometer that records steps almost exactly (I walked around the office literally counting my steps, and the pedometer was only off by three steps) and an analog-style clock that could actually double as a wristwatch for those geeky (and brave) enough to attach it to a wristband. Speaking of attaching it — it wouldn't be a Nano review if I didn't mention my favorite new feature: the clip on the back of the device making it perfect to run with, commute with, or just keep close by. The screen rotates 360 degrees with a two-finger swipe, so you can view your iPod's screen easily no matter how it's clipped onto you.
Overall, the new Nano is one big win! It's available now in seven colors from the Apple Store and costs $149 for 8GB of storage, and $179 for 16GB.