New iPod Touch Review
iPod Touch Review: So Touchable!
The newest iPod Touch to hit the market may come with a few wow-inducing features it's never seen before, like dual cameras and FaceTime video chatting, but the first thing you'll notice about the 4th generation iPod Touch is the form factor.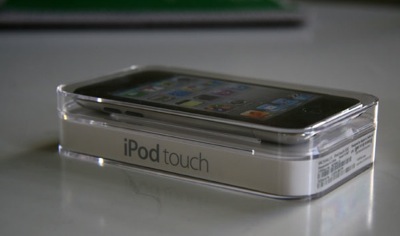 This thing is slim! It makes my old 3GS feel like a chunky paperweight in your hand, which is saying a lot since the 3GS was never really thick to begin with.
The iPod Touch comes with iOS 4, so you can multitask and organize with folders but is also packed with a new retina display, the Apple Game Center app, and is compatible with the Nike + app so you can track your runs and fitness (my review on that app later). So handy!
Want to learn more about the iPod Touch, see more pics, and hear my overall thoughts? Then just read more.
Having an iPhone really makes the iPod Touch obsolete, but if you aren't toting an iPhone, the iPod Touch is a great substitute since it gives you access to the Internet, apps, games, TV and movies, and a crisp camera, all in a smaller, easier to tote package. There are no contracts to sign, and no data plan to worry about — no business, it's just there to have fun.
The downside to the iPod Touch is an issue probably pretty familiar to Apple owners — fingerprints. The second I got my paws on this thing, it was like fingerprint city, and I wasn't even wearing lotion. It's most noticeable on the back of the iPod, but in the right light you can really see the smudges on the screen. The upsides are definitely the 3.5-inch multitouch retina display, which allows you to read books on the iBookstore with ease, and the fact that it's PVC-, arsenic-, and mercury-free, and the case is made from recyclable materials. Go eco-geeks!
Overall, the iPod Touch won't replace an iPhone (although it will try to come close) but is a great buy for those who want a multimedia device and don't want to pay a fortune for a tablet. The new iPod Touch starts at $229 for 8GB, $299 for 32GB, and $399 for 64GB and is available for purchase now online.