Nike Air MAG Back to the Future Shoes Pictures
A Close-Up Look at the Back to the Future-Inspired Nike MAGs
As we mentioned earlier, Nike is rolling out a real-life version of Marty McFly's self-lacing Nike shoes, and High Snobiety has an early look at the shoes in person. Head there for more pics! The shoes will be sold for a good cause, too: proceeds will go to the Michael J. Fox Foundation for Parkinson's Research. We're drooling over here.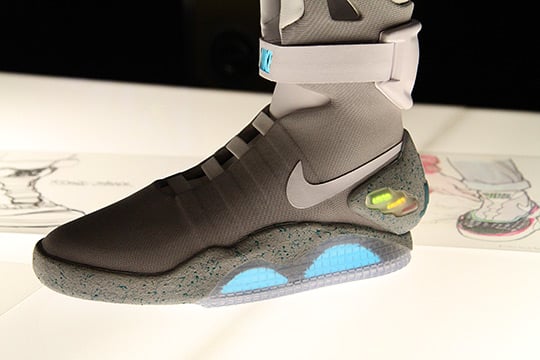 Update: Nike will be auctioning off 1,500 pairs of MAGs during a 10-day event (150 pairs per day) starting tonight at 8:30p.m. PST and running through Sept. 18 via Ebay's Fashion Vault. Unfortunately the shoes don't auto-lace, but I'd still get the credit card ready just in case.
Check out the official promo video of the shoes from Nike below the break!