Nike Turns London Into a Giant Running Game
Nike Turns London Into a Giant Running Game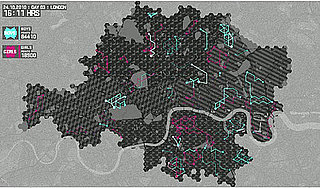 Nike has unleashed a game called "The Grid" in London, aimed at encouraging more young people to identify themselves as runners (and likely buy some Nikes in the process). The game breaks the city into 48 different zip codes containing four traditional phone booths. Runners run between the booths, dialing a number and entering a personal code to register a run. The runners then receive instructions on where to go next.
Players can sign up as teams or play as individuals, and their process is tracked at nikegrid.com through a set of awesome visualizations.
The game was created by Wieden + Kennedy, the same brains behind the Old Spice guy, and will last for two weeks.