During the Nintendo presentation this morning at the E3 conference, Nintendo President Satoru Iwata took the stage to officially show off the Nintendo 3DS. It's a pretty amazing gaming device, coming with a 3D widescreen on top and touch panel (non-3D) screen on the bottom, a 3D slider (to adjust the level of 3D projection, or turn it off all together), an analog stick, dual 3D camera on the front and a single front-facing camera on the inside, motion sensors, and a gyroscope to enhance your game play. You'll get all this without ever needing to wear a pair of 3D glasses.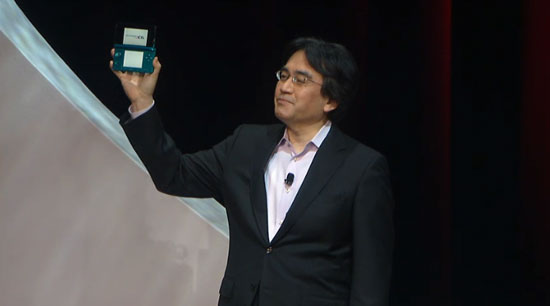 Additionally, Iwata announced that you'll be able to view 3D movie trailers from Disney and Dreamworks from the 3DS, with more trailers — and eventually full movies — rolling out soon. Further, the 3DS will come with upgraded WiFi communications that let your 3DS download upgrades, new levels, and extras from your games automatically, without any monthly fees.
Find out what titles will be available for the 3DS, and see a video from the presentation after the break.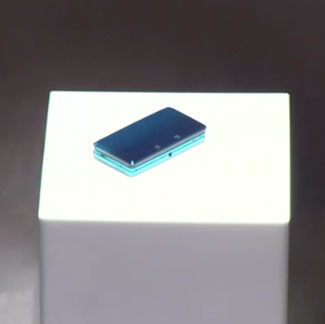 Available titles include Kingdom Hearts, Nintendogs + Cats, Professor Layton and the Mask of Miracle, Resident Evil, Metal Gear Solid, and much more. No pricing or availability details were announced at today's keynote, but it does seem that the 3DS will first come in an icy matte blue on blue metallic color combo, which screams Winter to me!
After the presentation, the crowd got a chance to demo the 3DS right from their seats, as a large group of 3DS-wearing booth babes made their way through the rows to show off the new gaming device. Hopefully, we'll get a chance to see it up close soon as well! That's not all from Nintendo though — stay tuned for more E3 coverage this week!