Nintendo 3DS Details
Nintendo 3DS Pricing, Specs, and More Details Released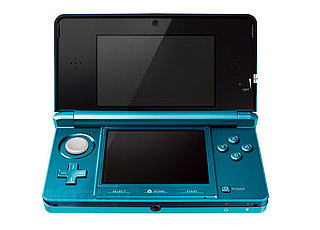 The Nintendo 3DS was officially announced at this Summer's E3 conference, and now we know more details about the highly anticipated device. The 3DS comes with a charger stand, a 3DS touch pen, a 2GB SD card, and six augmented reality cards. New functions include a slide pad, motion sensor, and gyro sensor.
Like its DS family predecessors, the 3DS features two screens. The top, 3.53 inches with a liquid crystal display of 800 x 240 pixels. The button, 3.02 inches with a liquid crystal display of 320 x 240 pixels. Games can be downloaded from the 3DS Virtual Console and will also work with DS and DSi game cartridges. It comes in three colors: blue, red, and gray.
The 3DS launches in Japan — with streaming 3D TV! — in February for $298 and will launch in the US a month later. So far, no word on streaming TV or a US price.
Check out the full features trailer after the break.