Nintendo 3DS Games Announced at E3
Nintendo 3DS Brings New and Notable 3D-Ready Games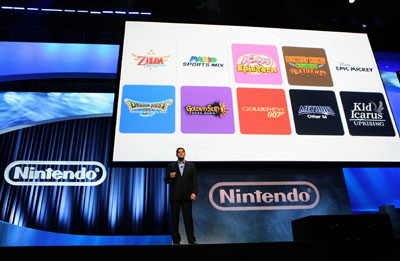 Nintendo announced its new 3DS portable gaming system at E3 yesterday to much excitement. The console brings 3D gaming to you wherever you are, without the need for glasses. Although it comes packed with many new features — including a 3D camera — there will also be a full roster of new third-party games (as well as some old favorites) available to play at launch. I previously mentioned a few of them, but here are a number of other notables:
Animal Crossing
The Sims 3
DJ Hero 3D
Kid Icarus
Mario Kart
To see even more games you'll be able to play on the Nintendo 3DS, just keep reading.


Professor Layton and the Mask of Miracles
Star Fox 64
Resident Evil Revelations
Ridge Racer
Nintendogs + Cats
Paper Mario
Additional games being developed include titles from the Final Fantasy franchise, as well as the Assassins Creed, Batman, and Street Fighter series.