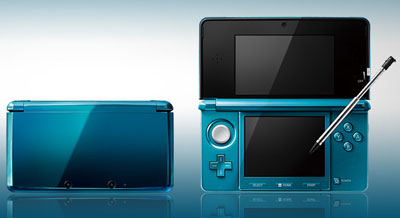 It's almost time — the Nintendo 3DS launches this weekend! I've had a few days to get to know the unit, and while I'm admittedly a Nintendo kind of gal, it's definitely exceeded my expectations with this console. Find out more about it below!
Price and Availability
The new Nintendo 3DS will hit stores this Sunday, March 27 for $250.
Trade-Ins and Credits
Want to trade up for the newest version? Here's what you need to know:
Walmart — Starting this Sunday, you can trade in a used Nintendo DS model for up to a $100 credit toward the 3DS at authorized Walmart locations.
Target — Starting on Sunday, you can trade in any used Nintendo DS system for up to $50 in credit toward the purchase of a 3DS, or any other purchase in Target stores.
GameStop — Trade in your used Nintendo DSi XL for $100 in reservation credits, your DSi for $75, and your DS for $50 to put toward the purchase of a new 3DS.
Find out more about the games, the 3D quality, and whether or not you should buy after the break.
Games
Let's talk about games, baby! I'm still hooked on LEGO Star Wars III: The Clone Wars, have dabbled in Super Street Fighter IV 3D and Steeldiver, and am ready to pull the trigger on Ridge Racer 3D and Pilot Wings. More game reviews to come!
3D
I was quite surprised at the quality of the 3D on the 3DS. It's crisp and not at all blurry, but you should try to remain at eye level and just in front of the top screen for the best results. I do have to knock it down a few points for making me a bit motion sick when I played while commuting, but I'm not worried. In fact, the 3DS could even help diagnose eye disorders in children. As always, playing in moderation is key.
Other Fun Stuff
Not only are there fun camera and music features coming with the 3DS (3D photos that you can edit and decorate, music storage and music making apps), but you can also play some seriously fun augmented reality games and even watch 3D trailers and music videos. Soon, you'll get free WiFi access from AT&T at over 10,000 locations and stream Netflix vids. How awesome is that!?
Should You Buy?
Yes. Not only is the 3DS backwards compatible with your old DS games (and there's a whole boatload of 3D-ready games being launched this year), but the 3D slider makes it versatile — you don't have to play in 3D. Not to mention, the 3DS's blue hue is a total knockout, it's lightweight, and it easily fits into your old DS cases. I loved playing it with the 3D on or off, and while the new button placements take some getting used to (there's a soft button panel below the bottom screen and a new thumb joystick to figure out), it's still the DS you know and love.