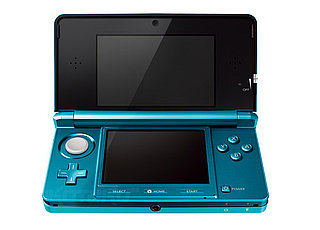 The anticipated (but potentially hazardous to kids) Nintendo 3DS has an official US release date: March 27. And the price is lower than expected! You'll be able to pick up one for yourself for $250; when the device was first announced in September, it had an expected price of $298.
The 3DS will come in either black or blue and includes two screens. The top screen displays images in 3D without the use of glasses and can be adjusted with a 3D Depth Slider for more or less effect. A new circle pad provides 360 degrees of navigation for playing in 3D, similar to the control stick on the Nintendo 64. And there are motion sensors that react to tilting the device, too.
In addition to gaming in 3D, users can take their own 3D images using two outward-facing cameras. The 3DS is compatible with previous DS games and will display images in standard 2D.