Nintendo Controller Coffee Table Pictures
Geek Living Room Finds: Functional Nintendo Controller Coffee Table
When dealing with a gaming console system, most furniture and decorating solutions focus on one theme: hiding. Sure, tangles of cords are no pretty site, but why does our love of video games need to be tucked away within built-in cabinetry and wicker baskets?
Hide your feelings no more by welcoming the functional (!) Nintendo controller coffee table ($3,500) into your living room. Remove the glass, plug in the retractable cord, and use the joypad and buttons to play favorite NES games of yesterday.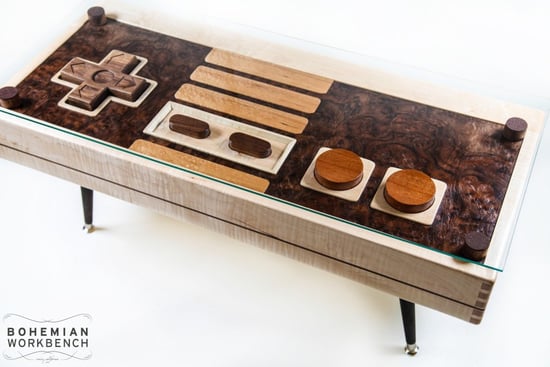 From Etsy shop The Bohemian Workbench, the table is made up of maple, mahogany, and walnut woods. Hand-crafted touches include dovetail joints and legs made in midcentury modern style. The shop is working on a demo video of the controller coffee table in action; in the meantime, peep one more picture of gaming carpentry after the break.