Windows Phone is headed to a big screen. Nokia revealed its latest device today, the fair-priced Nokia Lumia 625, which has the largest display yet, at 4.7 inches. The entry-level phone will cost about $290 when it arrives in early Fall.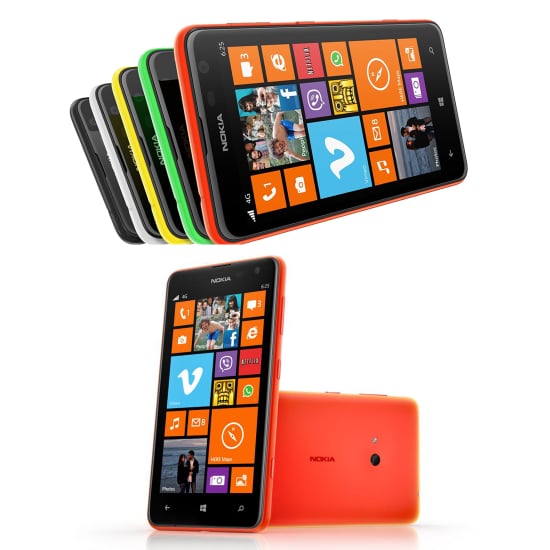 Nokia's Lumia 625 is 4G LTE-capable and comes with a touchscreen that recognizes input with gloves on. Unlike most phones in the Lumia line, however, the 625 does not have an exceptional camera (it's certainly not 41 megapixels). It has a 5-megapixel camera with 4x zoom and a 1/24 inch.
The Lumia 625 hardware is more in tune with the budget-friendly 520 and 720, with bright color offerings (available in orange, yellow, bright green, white, and black) and rounded corners.
Windows Phone 8 is, of course, the operating system and comes with a suite of photography and image-editing apps such as Smart Camera and the GIF-making Cinemagraph. If you're going to opt for the affordable, big-screened Lumia 625, download all the best apps for Windows Phone 8 and take a peek at the tech specs after the break.
Display — 4.7-inch, 800 x 480
Processor — 1.2Ghz Dual-Core, Qualcomm Snapdragon S4
Rear Camera — 5MP with 4x optical zoom,1/4-inch sensor, f/2.4
Front Camera — f/2.8
Video — Full HD 30p at 1920 x 1080
Memory — 8GB internal memory + memory card slot (can hold up to 64GB), 7GB free cloud storage; 512MB RAM
Dimensions — 133.2 x 72.2 x 9.2 mm, 1159 g