Nokia Lumia 925
The Nokia Lumia 925 Does Just Fine Without Instagram
Days after the release of the Lumia 928 on Verizon, Nokia introduced yet another premium flagship Windows Phone, the Nokia Lumia 925. The latest Lumia, available in gray and black metallic colors, replaces the plastic polycarbonate backing of its predecessors with a slim aluminum body that weighs just .3 pounds.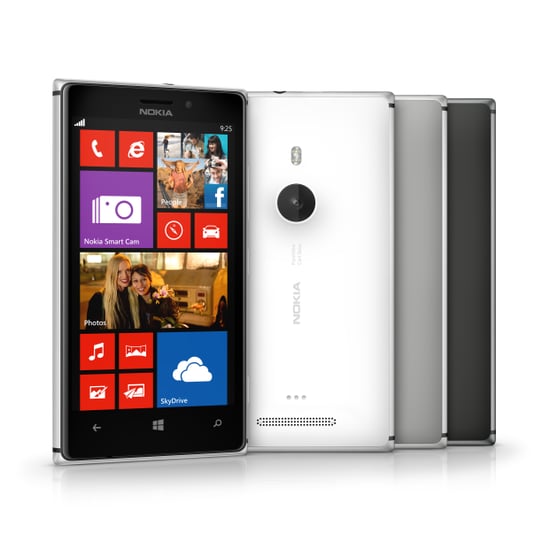 Like the 928, the Lumia 925's camera is the most standout feature, with some of the best specs on the market. But Nokia's new Windows Phone adds exclusive video photography apps in addition to its PureView camera lens technology to position the device as the ultimate mobile media creator.
Instagram is still missing from the budding Windows Phone OS platform — but can high-quality photo app alternatives and advanced camera technology make up for it? Meet the Lumia 925's built-in media apps and check out all the tech specs after the break.
Built-in Apps
Oggl — Launched just days ago by the analog photo app Hipstamatic, Oggl is a beautiful social photo sharing service using Hipstamatic's swappable lens and "film" filters. The app, which is currently invite-only but will come standard on the Nokia Lumia 925, can upload photos to Facebook, Twitter, Tumblr, Foursquare, Flickr and — most importantly — Instagram. Oggl is an interesting Instagram workaround for Windows Phone users.
Vyclone — The video-sharing app, which edits and syncs multiple video capture angles from the same event, also recently launched for WP8. Vyclone is slick, easy to use, and has an already established user base.
Cinemagraph — This app creates movie-like photo animations that go above and beyond GIFs. With Cinemagraph, you can isolate one part of a picture to animate and create a cinemagraph.
Nokia Smart Camera — Exclusive to Lumia, the app shoots a sequence of photos, and selects the best shot or combines all photos in one image.
Taken with the Nokia Smart Camera
Camera Specs
Main Camera — 8.7MP photo; 4x digital zoom; f/2.0 aperture, 1/3-inch sensor, 26mm focal length; 8 cm min. focus range; dual LED flash
Main Camera Video — 1080p HD; 30 frames per second; 4x zoom
Front-facing Camera — 1.2MP wide angle; f/2.4 aperture
Front-facing Camera Video — 720p recording
Pricing for the Nokia Lumia 928 hasn't been released, but will launch in the US in June on T-Mobile. The new Lumia will be available in select Asian markets and Europe first for about $608.