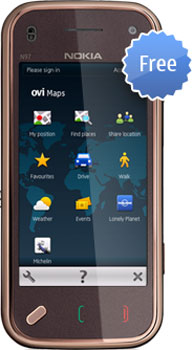 This morning in London, Nokia announced Ovi Maps, a free turn-by-turn navigation app that costs nothing and will immediately work with 10 of its GPS-enabled handsets (with more rolling out soon). Coming with high-end voice guidance for drivers and pedestrians alike, the app comes stocked with highly detailed maps for 74 countries, traffic information in 10 countries, and will be available in 46 languages. The best part is that all of the maps are free forever, so you won't have to buy new maps or apps if you're traveling to different countries — it's all included.
Starting in March, new Nokia devices will automatically come preloaded with Ovi Maps, along with Lonely Planet and Michelin travel guides so you'll not only be able to explore new and faroff places, but you can find cool things to do there as well. Check to see if your Nokia handset is compatible, and download Ovi Maps here. To see what Google has to say about Ovi Maps, just
.
Update: Now that Nokia has a leg-up on Google's navigation apps (Ovi Maps can work offline, unlike Google Maps that must stay connected at all times), we wondered what Google thought of Nokia's newest addition. We got into contact with a Google spokesperson, who says they're all for it:
We're pleased to see more free navigation options now available for mobile phone users. This benefits consumers, and provides them with even greater choice.