Nook 2 and Nook Lite Coming in 2010
Rumor Mill: Nook Lite and Nook 2 on Their Way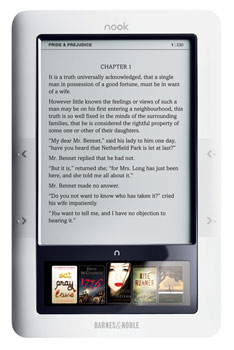 According to a tipster in-the-know, two new Nook ereaders — the Nook Lite and Nook 2 — will be unveiled later this year.
No details were given about the Nook 2, but the Nook Lite is said to be hitting stores by the end of Q2 (June), will have WiFi-only functionality (compared to the WiFi and 3G capabilities of the original), and will sell for $200. Additionally, a Nook software update is expected to hit next week, and will include the addition of a browser.
This news doesn't really come as a surprise after learning that the Nook will be sold at Best Buy (starting tomorrow), since Barnes and Noble will need to clear the way for new models. I'm stoked about the lower price (even though it comes without 3G), so geeks on a budget can get their e-reading on as well.