Nook Tablet Details and Specs
5 Things to Know About the New Nook Tablet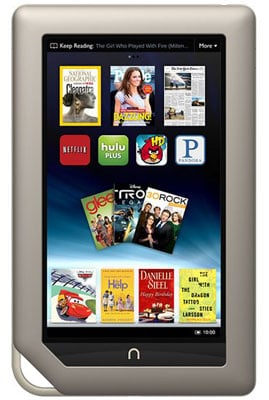 Barnes & Noble finally announced the Nook Tablet yesterday. First impressions from the specs and capabilities seem to be that it will be a worthy competitor to the Kindle Fire when it's released next week, so take a tour through a few of these buying points to consider before you click "purchase."
Affordable price — The Nook Tablet is priced at just $249, which is a fraction of the cost of other tablets on the market right now.
It's slim but stocked — The Nook Tablet got a boost in the specs department — now with a 1Ghz dual-core processor, 1GB of RAM, 16GB of memory, bright seven-inch VividView touchscreen display, and up to 11 hours of reading time — but remains super light and portable weighing in at just 14.1 ounces.
It's got content, baby — You'll be able to stream movies, TV shows, and music with preloaded apps from Netflix, Hulu Plus, and Pandora (all of which are offering free trails), but you can browse and download the over two million books in the Barnes & Noble online store.
In-store service — Ripping a page from Apple's Genius Bar playbook, you can take your Nook Tablet to any one of the Barnes and Noble locations across the country to get service and support for free.
It's a tablet, but not — The Nook Tablet runs a custom version of Android 2.3, but is lacking a few things that tablet owners might miss, including a 3G connection (the Nook Tablet is WiFi only) and there are no webcams for on the go video chatting.