Nook For Windows 8
Free Books For Windows 8 Users, Plus a Big Development on the Way
Surface users have a lot to look forward to these days: Barnes & Noble is offering free ebook swag for Windows 8 users, and Microsoft just confirmed that the operating system's next big update, codenamed Blue, will be announced in June.
To entice the Surface RT and Surface Pro crowd to download Nook for Windows 8, Barnes & Noble is giving away five books and five magazines to those who get the new app, in addition to the one million free books already available in the Nook catalog.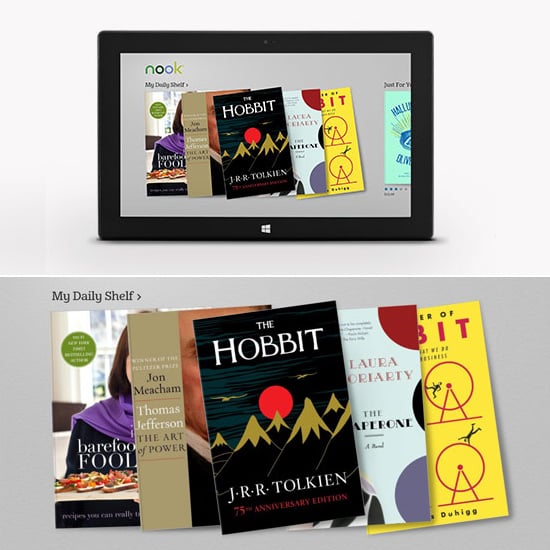 As always, free swag doesn't come without its strings: the offer is only available for a limited time, and users have to choose from a "select list." Among the good titles on that list is Life of Pi, which is only free to the first 100,000 Windows 8 customers.
The new Nook app for Windows 8 is also making digital life a little more streamlined for Surface users. Instead of signing up with separate Nook credentials, Windows 8 users can sign in and purchase media with their preexisting Microsoft Account.
There's more in store for Surface on the software side, too — but we won't know what exactly that is for a couple of months. Today, Microsoft confirmed that Blue, the first major update to Windows 8, will be announced at the Build Developer Conference in late June.
Leaks of Windows Blue have already "surfaced" on the web, and the previews show some exciting new features, like running more apps side by side, a more customizable start screen, and increased integration with SkyDrive, Microsoft's version of iCloud.
In a blog post, Frank Shaw, Microsoft's VP of communications, stressed that the company's "new normal" is unifying all devices, apps, and services. We can't wait to see how Microsoft integrates Windows, Phone, Office, Xbox, and more in the coming months, but until then, we want to hear from you Surface folk: is it a good time to be a Windows 8 user?