Note-Taking iPad Apps
Take Note: 7 Sleek Apps For Jotting Down Ideas
When inspiration strikes, having a go-to note-taking app handy is absolutely essential. Writing on mobile devices is a tricky thing — fast-moving fingers are prone to mistakes with that tiny keyboard, and an interface can't have too many bells and whistles (it takes up too much precious screen space).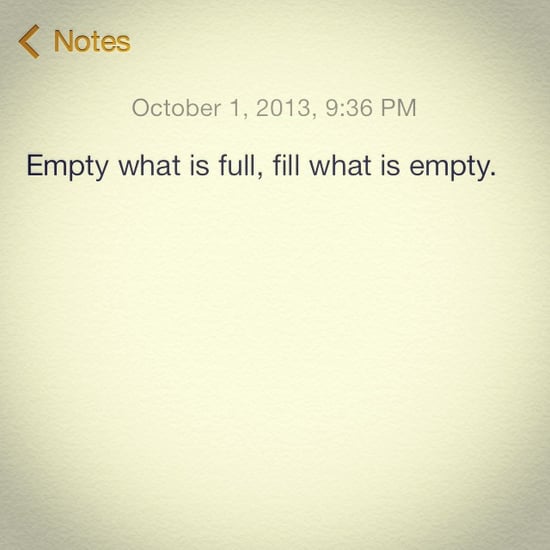 Jotting down ideas, thoughts, inspiration, or even notes for class the analog way is easy, but finding a word processor and annotation app suited to your specific note-taking style takes a bit of trial and error. We've dwindled it down to seven of the sleekest, most beautifully designed writing apps that pack a lot of features in a mobile package.
Vesper
This app, which has been redesigned for iOS 7, for iPhone, iPad, and iPod Touch ($4) is a lot like a Tumblr for notes. Each note can be tagged, and Vesper will make tag suggestions as you type. Tap the camera icon to attach images. The notes are organized by tag but, like a playlist, each document can be rearranged within the tag by dragging the item up or down.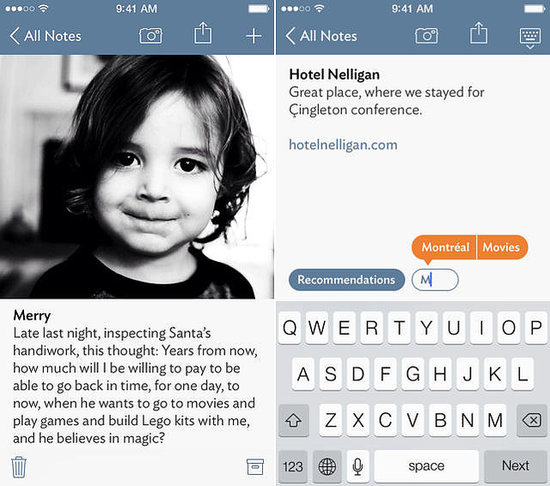 Evernote
Evernote took its award-winning iPhone app and redesigned the entire thing for iOS 7. Notes can be categorized by tag or into notebooks. There are different types of documents as well: to-do lists, outlines, photo albums, reminders, and plain text. You can also mark up and annotate PDFs. In the latest update comes the Post-It Note camera, which digitizes handwritten to-dos and automatically assigns different tags to different Post-It colors. Evernote is available on Android, Windows Phone, and BlackBerry as well.
Fluid Notes
Fluid Notes ($5) for iPad is a great tablet application for those who prefer handwriting their notes. Choose from a ballpoint, fountain pen, pencil, or crayon, and jot away! Documents can be exported to email, Dropbox, Google Drive, Evernote, or Box. I find Fluid Notes ideal for taking notes during math class and recording complicated problem sets.
More download-worthy apps after the break.
medNotes
Any professional who is required to do medical transcription needs medNotes ($4) for iPhone and iPad, which includes a complete medical dictionary that autocompletes terms as you type. "Immun" becomes "ImmuneActivator" or "Immunex" in one tap.
Springpad
Springpad for iPhone and iPad (free) also got a fresh new look for iOS 7. Lists and outlines are organized by notebooks. Details to projects that include the name of a location like a restaurant, bar, or venue will trigger Springpad's reviews and reservations feature. It will fill in OpenTable, Foursquare, and Yelp information. The social aspect of Springpad is its most distinctive feature. You can follow notebooks of interest, like Fall Cocktails or The Geeky Homemaker.
Stampnote
Those in law or freelancers who track billable hours will find Stampnote ($1) for iPhone and iPad very interesting. Each new entry has a timestamp attached to it, and you can export the notes as .CSV files for a spreadsheet app or text editor.
Notability
Notability ($3) for iOS is best as an iPad app for annotating PDFs. The iCloud integration syncs your marks on all devices. There are many "pen and paper" options for every kind of form, contract, or worksheet. The built-in audio recorder comes in handy for lectures and meetings.