Official Comic-Con App
Official Comic-Con Apps: The Ultimate San Diego Survival Guide
Comic-Con International: San Diego is colossal. With hundreds of programs, tens of thousands of attendees, and an exhibition hall that spans over 460,000 square feet, this convention is not for the faint of heart.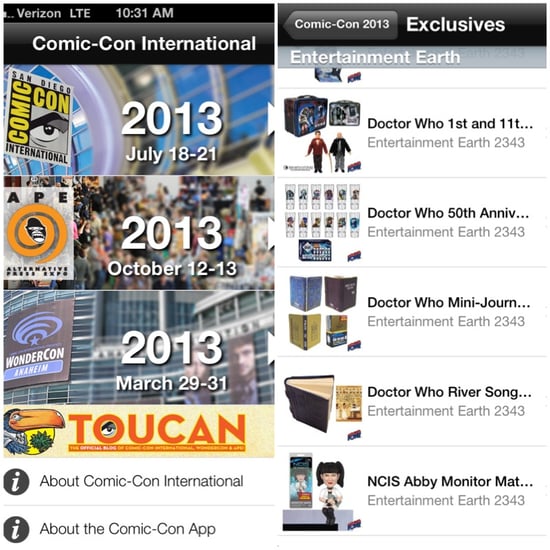 For the most zealous pop culturists willing to brave the Comic-Con crowds, don't leave the house without the official 2013 Comic-Con app for Android, which was just released yesterday, and iOS. You won't be able to survive without it.
See complete listings of programs, exhibitors, Con exclusives, and maps. Tag your favorite panels, previews, and Q&A sessions as "Favorite," and the app will compile your schedule for you.
All programs are broken down by category — anime, autographs, portfolio, review, etc. — and completely searchable. If you're attending the Alternative Press Expo in October, this app has all of that information, too.
Download the official Comic-Con apps for iPhone, iPad, and Android, and start scheduling your four-day celebration of comics, pop culture, and science fiction. Be sure to follow us on Instagram, Twitter, Tumblr, and, of course, our homepage for the latest from the San Diego Convention Center. Have a good Con!