After acquiring iPhone app Tweetie last month, Twitter announced plans to release its own free iPhone application based on the popular app. Now, Twitter for iPhone is officially available in the App Store.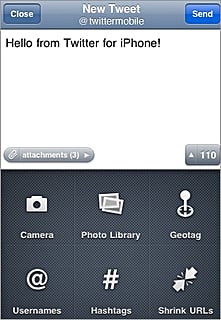 The app contains all of the functionality of Twitter in a smart mobile interface. Search tweets in real time, and view trending topics and location data. The app contains simple shortcuts to your phone's camera and photo library for easy photo and video tweeting. Plus, it contains a built-in URL shortener.
From your timeline, swipe across any tweet in your stream to quickly reply, retweet, favorite, view the user's profile, email the link, or mark it to read later. Additionally, you can quote the tweet or even translate it directly in the app. View your profile screen for easy access to retweets, lists, and services like Favstar.fm.
I'm pretty impressed with all of the available functionality — I almost like it better than the web version!