One Second Everyday App
Record 1 Second of Your Life Every Day For 365 Days
On his 30th birthday, Cesar Kuriyama quit his job and started creating a viral video — he just didn't know it yet. The project was an ambitious one: to record a moment every day for the rest of his life.
He cut footage from the first year of his undertaking into a film, and the result was this remarkable six-minute-long video collage. Most of the recordings were shot on an iPhone 4 or 4S (with an Olloclip ($70) for the fish-eye scenes), and the rest were filmed on a Canon 7D, Lumix Z53, and GoPro HD.
1 Second Everyday — Age 30 from Cesar Kuriyama on Vimeo.
The project had such a positive impact on Cesar's life that he launched a Kickstarter campaign to turn his idea into an app called 1 Second Everyday that stitches one-second-long videos into a continuously evolving movie. The app accesses your camera roll and compiles the footage for you, then sends a daily reminder in case you forget.
Since it's still in development, 1 Second Everyday isn't available on the Apple App Store or Google Play just yet, but if you're really curious, preview screenshots from the app after the break.
Calendar View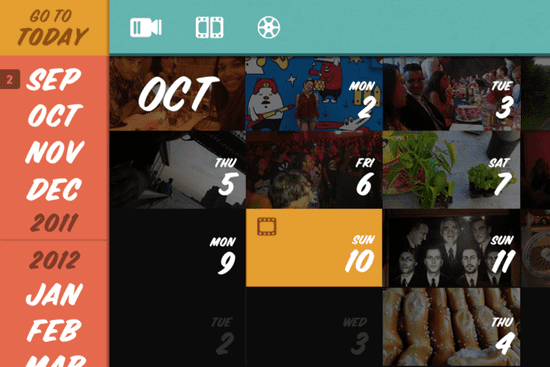 Multiple Timelines

In-App Recording