Online Dating Advice and Relationship Issues on Facebook
Wall Posting — Just Saying "Hi" or Marking His Territory?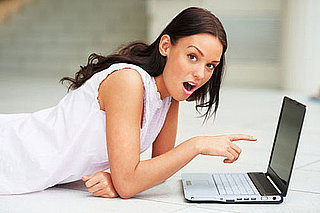 Tell me if you've heard this one before: you click on a friend's Facebook profile (or perhaps your Facebook profile) only to be greeted with non-stop wall posts from the same person. Sometimes, it's just an enthusiastic college buddy posting YouTube clips and reciting inside jokes, but recently a friend alerted me to another kind of wall posting that carries a little bit more of a message.
The guy she's been dating for about four months now has been dominating her wall. Scrolling down, the screen is dotted with his greetings. Everything from "Hi baby, just thinking of you" to "What are we doing tonight — snuggle fest?" At first my friend thought nothing of it, but after another pal brought it to her attention, she's been contemplating his motivation. I totally understand a cute message every now and again from the guy you're seeing, but at this point in their four-month long courtship, text messages, emails, phone conversations, and several in-person dates are happening on a regular basis — you're certainly not just communicating via Facebook. So, what's the motivation for the constant Facebook communicato? Me? I think the digital PDA is all about marking his territory.
To find out why keep reading.
For some guys and girls, Facebook can be a pretty easy and public way of letting others know that they're coupled up. Especially, as in the case of my friend, if you're not "in a relationship" on Facebook, constant wall-posting with references to your plans, dates, and nicknames for each other can be a way to assert the relationship on a public level. But, it does have the potential to border on the passive-aggressive, especially if the conversation is one-sided, as it is in this case — a sort of quiet way of making the relationship very public, without necessarily having to have a real conversation about "status". Now, I'm not saying that these messages can't be sincere, but aggressive, non-stop posting, with the "baby" or "babe" thrown in might have another motivation.
If this is the case, I suggest having a real relationship talk (read: not on Facebook). If you're into the guy (like my friend is), try addressing the situation with a little humor and reassure him that you're excited about the relationship too. It's probably likely that the public messages are coming from a place of insecurity — he might be threatened by your guy friends, college friends he doesn't know, or an ex-boyfriend. This might be his way of marking his territory, and showing your other friends that he's in the picture. However, describing to everyone what the two of you might eat for dinner on Friday night while you cuddle might be an overshare you don't want on your profile.