Online Wish List Done Not Done
Done Not Done: An Online Checklist For Movies, Music, and Books
This year, if you're resolving to watch, listen, or read more, start tackling your list with Done Not Done, an interactive online movies, music, and books checklist that pairs with a great iOS app to help save, remember, and discover your new favorite media.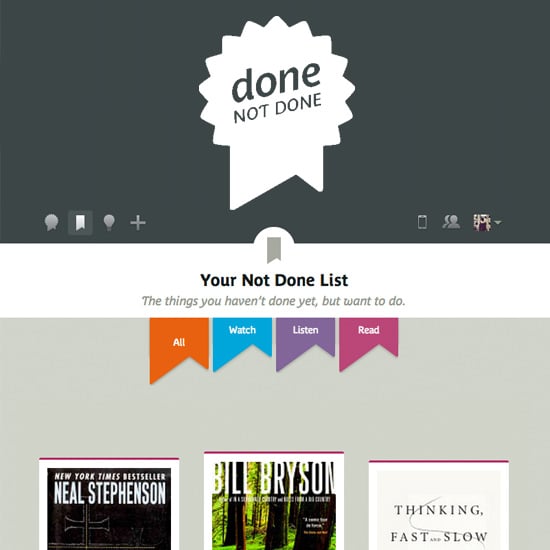 Use the app to bookmark a friend's suggestion on the fly, and mark it as "done" once it's, well, done. You can also rate the media and leave a brief review for others.
The site pairs with either a Twitter or a Facebook account to create a profile and, if you wish, builds a network of friends and family who are using Done Not Done. See what's popular within your network, or buddy up with one other person and take on a media wish list together.
Done Note Done was created by the same people behind the design-y task web app TeuxDeux and the Gimme Bar bookmarking tool. Its interactive and animated interface made it fun and easy to figure out when we took it for a test run. Sign up for the site and let us know: what's on your wish list?