Season one of BBC America's Orphan Black hooked us. The show about a woman who discovers that she's part of a clone sisterhood involved in a mysterious conspiracy, has sci-fi fans already marking their calendars for its season two return in 2014. Tatiana Maslany plays each and every clone: Sarah, Beth, Alison, Cosima, Helena, and Rachel. In their first-ever panel together — and at Comic-Con fan base Nerd HQ, no less! — Tatiana, Jordan Gavaris (Felix, Sarah's foster brother), and Dylan Bruce (Paul, Beth's boyfriend with a mysterious past) answered fans' questions on everything from favorite music to favorite characters' lines.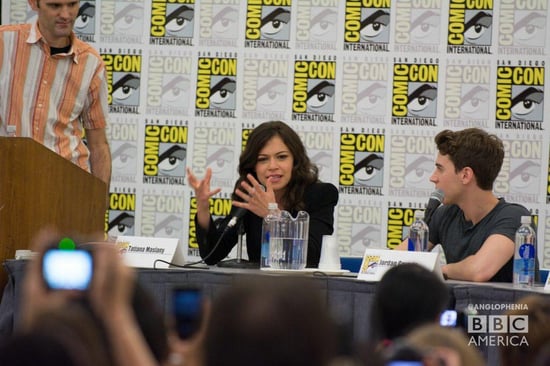 Favorite line
Tatiana: "It's Delphine — she's got baggage." — Felix
Jordan: "Does your daddy have a drink trolley?" — Felix
Dylan: "Adios, dragsters." — Felix
What sort of new clone would you like to see?
Jordan: "A transgender clone."
Tatiana: "An old clone, ye olde clone."
The clone that would win in a battle royal
Tatiana: "Helena. Helena would be eating people's arms and then trying to date them afterwards."
Jordan: "Sarah is scrappy."
The music Tatiana uses to channel each clone
Sarah: "She's The Clash, Dizzee Rascal, and Mike Skinner from The Streets. Prodigy, as well."
Helena: "Antony and the Johnsons. Tom Waits, obviously. And also Prodigy."
Cosima: "She's electro, Grimes, stuff like that."
Alison: "Show tunes! Musicals, musicals, musicals!"
Rachel: "'90s slow jams, really sexy stuff."
Watch the whole panel below — including Jordan singing a favorite "T. Swift" song with Tatiana on beat box backup.