Ouya Games
Ou-Yeah! Why the $99 OUYA Is the Most Cutting-Edge Console Around
The Android-based OUYA gaming system ($99) is finally available in retail stores nearly one year after its successful Kickstarter campaign ended. But you'll have to act fast if you want an OUYA, because the small, Rubik's cube-sized console is already sold out on Amazon and Target.
So what's all the buzz about? OUYA is a developer-friendly, open-source video game console that promises to put the power "back into the hands of devs and gamers." With Microsoft backpeddling on its draconian Xbox One rules and PlayStation forcing social features on its users, it's about time for some disruption in the gaming market.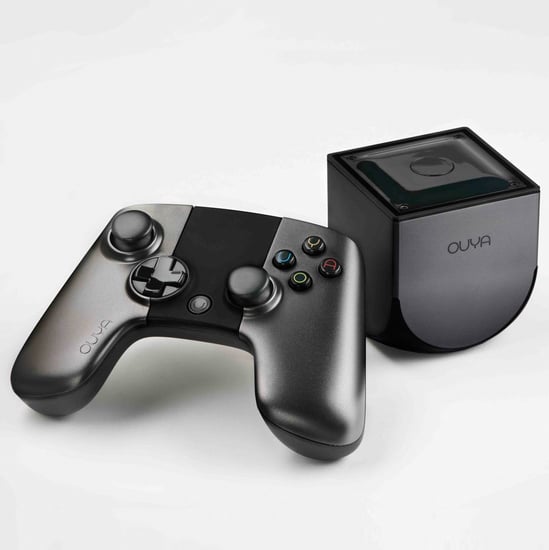 We think this pint-sized gaming system is poised to poach gamers from PlayStation and Xbox — and here's why:
Affordable — The PlayStation 4 will retail at $400 and the Xbox One will cost you $500. The OUYA, on the other hand, is priced at $99. The next-generation console is the most budget-friendly system yet.
Beautiful design — Yves Béhar, Chief Creative Officer at Jawbone and the man behind the Jawbone UP band, designed the small, pocketable console. Inside of its pretty package, OUYA holds an NVIDIA Tegra 3 processor, 1GB of RAM, and 8GB of internal storage.
All games are free to try — The company is offering all of its 178 games in 1080p for free to try. Your credit or debit card won't be charged until you choose to purchase.
EMUya — This NES emulator, available in the OUYA game store now, will run Zelda, Super Mario Kart, and more Nintendo classics on the device.
Media streaming and entertainment — Since the console is Android-based, it can also run apps and stream TV shows, music, and movies on the big screen.
Open-source — The console is making itself extremely hackable by offer developer tools free with the purchase of an OUYA. With tens of thousands of Android developers in the market (a Quora thread suggests over 65,000), there is lots of potential for games and apps.
Sure, there aren't any triple A titles like Halo or Call of Duty available on the console and its graphics processing power isn't quite up to par with the Xbox or PlayStation. But, it will appeal to a budget-conscious mass market who's more interested in mobile gaming than consoles, anyway.
Will you opt for OUYA instead of an Xbox or PlayStation this year? Let us know if you think the Android-powered gaming cube is the most cutting-edge console around.