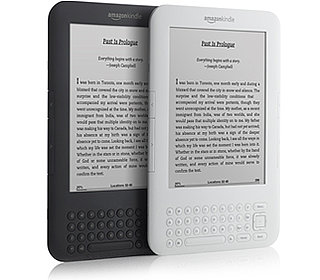 It's a tiny little tweak but will make a huge difference: books on the Kindle are getting page numbers. The update, which is available now to download and soon as an automatic update, will give the newest generation WiFi and 3G Kindles page numbers, an enhancement to the percentage status currently at the bottom of the page.
While it seems like a minute detail, I certainly missed the page numbers; perhaps it's just a little bit of nostalgia for actual paper editions, but they gave me a sense of exactly where I was in the book. The numbers will correspond with those on a printed book, helpful for book clubs, classroom discussions, or other scenarios where referring to a physical page number are relevant. The page number addition will roll out to Kindle app users in the months ahead.
Get the scoop on other updates coming to the Kindle after the break.
Additional expected updates include new newspaper and magazine layouts, the ability to rate a book and share it via Facebook and Twitter, and the ability to share public notes with others — though, naturally, none are as exciting as the addition of page numbers.