PayPal App Lets You Bump Phones to Make Payment Transfers
Bump Phones to Transfer Money in PayPal
You can make payments and transfer money on your iPhone with the help of Square and your debit or credit card, but now with PayPal's new app, you don't even need that. Just by bumping your phones together, you can transfer money from one PayPal account to the other — no bank, check, computer, or credit card required.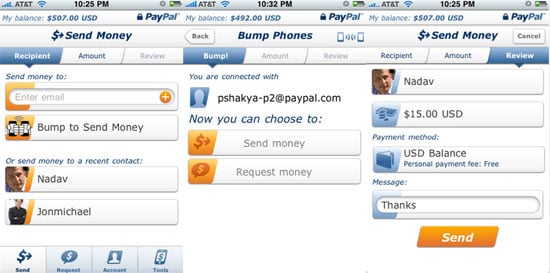 The new PayPal app isn't just for your iPhone though — it works on your BlackBerry or Android device as well. To hear how it works, just read more.
The app works like this: fire up the app, enter payment info, then all you have to do is put in your secret PIN and bump your two phones together to make the transfer. Easy, quick, and great for when you need to pay someone back, owe someone cab fare, or want to split a check. It even lets you donate to charity and manage your PayPal account on the go. Get the PayPal app in the iTunes store, or search "PayPal" in the Blackberry App World and Android Marketplace.