Penis Optical Illusion Photo
You Won't Be Able to Unsee the Optical Illusion in This Hilarious Picture
To me to you. pic.twitter.com/2guLlvYKma
— Solita Restaurants (@SolitaNQ) November 18, 2015
At first glance, the picture above looks like an innocent shot of three people having fun and enjoying a few drinks. But if you look closely, the woman standing between the British entertainment group the Chuckle Brothers seems to be holding a cup of, er, penis. The photo — now being called an optical illusion — was posted to Twitter by Solita Restaurants, a popular British food guide, and his since gone viral with over a thousand favorites and retweets.
Commenters can't get enough of the photo:
So annoying when you have photo with the Chuckle Brothers and your arm looks like a penis in a glass via @SolitaNQ pic.twitter.com/Gb28ks0PKl
— Tom McLaughlin (@_TomMcLaughlin) November 19, 2015
@SolitaNQ that's one hell of a cocktail....
— Lorna Picton (@lornapicton) November 18, 2015
A closer look . . .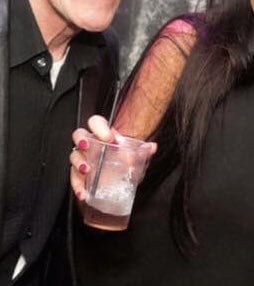 OK, the object in question is clearly just her arm, but once you've noticed the phallic image, there's no going back. This leads us to wonder, what is the Internet coming to?