Are Phone Calls Intrusive?
Are Phone Calls Now Rude, Intrusive, or Awkward?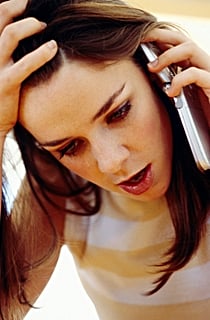 A New York Times trend piece over the weekend detailed something you probably already know: voice cell phone usage is on the decline, and data use (especially text messaging) is on the rise. While the article points out that teens have stopped calling each other altogether in favor of texting, many adults have given up on the phone call too, even in the workplace.
In fact, the author even goes so far as to call a phone call rude, intrusive, and awkward. And while that seemed ridiculous at first read, after thinking about it, an unsolicited phone call from someone who isn't my mother, sister, or good friend can often seem awkward and ill-timed. In fact, I'm more likely to pop the call to voicemail and then follow up with an email or text if the caller leaves a message.
Gone are the days where we'd trip over each other trying to be the first to answer a phone call (my sister and I were vicious!). Now, when our land line rings at home, my roommate and I sort of stare at each other, and usually say something like, "Did you give anyone this number?"
While traditional telephone service is nearly a relic of the past, services like Google Voice and even FaceTime have helped voice service evolve to meet the demands of a more connected audience, it rarely seems to be the best option for contacting someone. Do you feel similarly, or are you still a fan of the phone call?