Phone and Digital Etiquette Tips For 2012
6 Digital Etiquette Tips For 2012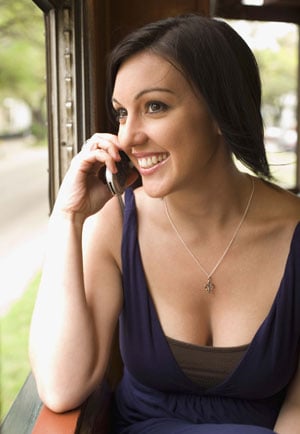 There's still time to break the bad habits of 2011 and kick off the year with a fresh take on the tech etiquette that may be driving your co-workers crazy and even have consequences to your health. Be a considerate digital user in 2012 by breaking these six technology habits.
Walking or driving while texting — we've seen the ad campaigns warning against distracted driving, but it seems every time we're on the highway, we pass a driver glancing at their phones instead of the road. The same goes for the busy city street pavements you pound during lunch for exercise. If you're texting or otherwise fiddling with your phone while walking, not only are you likely to be walking slow and annoying other pedestrians, your distracted movements may keep you from seeing an upcoming intersection, a clear recipe for disaster. Put the phone away for a few minutes and take in the scenery of the street.
Loud cell phone chats on the bus — the commute to and from work is rarely the highlight of an average day, but we're all in this together. Be kind to the other passengers and leave the loud stories of last night's date or the boss's attitude for when you get home.
TMI overload — your friends love keeping up with your life adventures via Facebook and Twitter, really they do! It's junior's potty adventures or how takeout leftovers made you feel today that gets people hovering their cursor over the Unsubscribe button. Play it safe and avoid talk of bodily functions on social networks.
See the rest of the tech etiquette tips to keep in mind for 2012 after the jump.
Loud music decibels — co-workers and nearby commuters will thank you for keeping your music at a manageable volume. Yes, you have headphones on, but we can still hear your "Productivity 2012 Jams" playlist coming through.
Checking out during dinner — if you're expecting a call during dinner, it's fine to have your phone out and to occasionally check for updates, granted you've explained the situation. However, if everything's normal, enjoy the time with your friend uninterrupted by leaving the phone in a pocket. Your phone distraction makes them feel like you'd rather be somewhere else or that their company isn't appreciated. The same rule generally applies to any other quality-time scenarios with a friend or family member.
Pressing Reply All or BCC — the BCC and Reply All email functions can be beautiful things. Your contacts don't know who's included on a blanket email update, and every team member can chime in within the same thread regarding a project. It's when these tools are mistakenly used that a collective groan is heard across an office. Before hitting send, double-, then triple-check that the email addresses are really in the BCC field or that everyone in the company truly needs to know your opinion on the new expense reports format.
Which digital faux pas would you like to see people quit this year?