Photogram iPhone Photo App
Download of the Day: Photogram
What's a week without another photo app launch? Today's launch, Photogram, is already proving an addictive solution for sharing memories.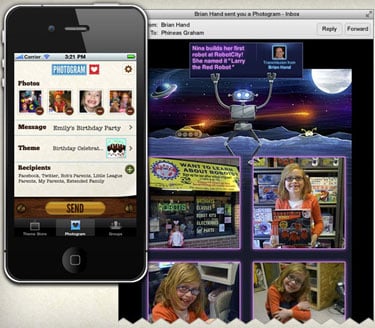 The founders bill the app as a go-to, photo-sharing option for new parents. Users can upload four images, crop a photo to focus on a pearly smile, select a theme to wrap up those photos (we're partial to Aldebaran Prime), and send to a recipient via email, Facebook, or Twitter with a brief message. The user-friendly dashboard allowed us to send along a four-image message to a co-worker in no time.
Photogram is free, but you can choose to purchase additional themes beyond the parent/grandparent-friendly designs for 99 cents from independent artists, who will receive a share of the revenue.