Photography Tips From Threadless
Lessons Learned From Threadless Photographers
Recently, Photoshelter founder Grover Sanschagrin visited the halls of Threadless (one of my favorite t-shirt companies ever) to see how and where its awesome images are captured for the online retail shop. Not only do we get an in-depth peek into a day in the life of photographers Sean Dorgan and Sean Donohue in the 10-minute video (which you can see after the break), but the tour offers up a few important lessons about photography as well. Take a look at the six tips I walked away with below!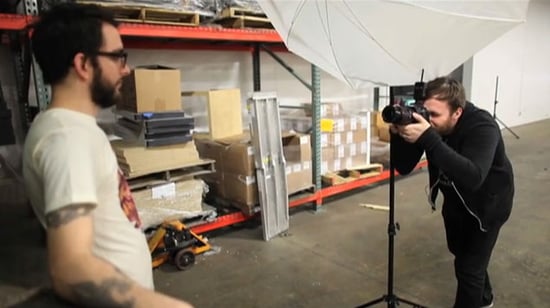 Change up your locations — The guys at Threadless shoot indoors and out and aren't afraid to try new locations.
Try different lighting techniques — Whether they're in the studio or out in the alley behind the office, these photographers use light in dramatic ways. Don't hesitate to try new lighting techniques — lighting from behind, natural light, and different angles — to make the most of your shoot.
Take a lot of photos — With nearly 30 shirt photo shoots a week, these guys have each shot almost 1,000 shirts in total. Each shoot helps you learn what works and what doesn't, so keep shooting! Practice really does make perfect.
See the rest of the list, and watch the video for yourself, after the break.
Improvise — If you're setting up a portrait shoot, you don't have to have a professional studio available. These guys use their own apartments, bike shops, whatever they can find to get the most visually appealing photo.
Don't overthink things — Most Threadless photo shoots last five to 10 minutes at the most, which leaves little room for second-guessing. Make sure you're not overthinking your shots and just go with your gut!
It's OK to DIY — These are professional photographers who have an arsenal of gadgets at their disposal. But still, they love a good DIY. In the video, you'll see that Sean Dorgan created his own beauty dish from some white paper, a CD disc tower, and a planter he got from Home Depot. Genius!
See the tour for yourself in the video below.
Inside the Threadless Photo Department from PhotoShelter.com on Vimeo.