Photos and News About the HP Touchsmart tm2
Hello, Pretty: The HP Touchsmart tm2 Lands at CES
I have to admit that one of the main reasons I fell in love with the HP Mini 1000 was the swirl design on the casing. Call me vain, but I like my gadgets to look good. So when I saw the pics of the HP Touchsmart tm2, I couldn't help but say, "Oooooooh." Let's get one thing straight — this thing is pretty.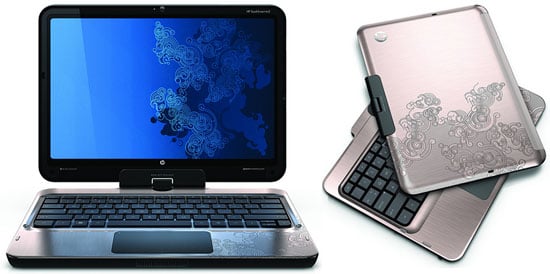 The swivel-top HP Touchsmart tm2 not only comes with a 12.1 inch screen and a 9-hour battery life, but it also comes packed with HP's own Bumptop 3D desktop. What's that? I'll explain when you
.
When you're using the tm2 in tablet form, you can activate the Bumptop 3D program and use touch to command your tablet. Want to toss some photos onto Facebook? Just drag them into the Facebook icon and away you go. The tm2 also comes bundled with some sweet-looking media apps like Netflix, Twitter, and Facebook (naturally), so you can stay connected. More details to follow as HP makes their keynote speech today at CES, but we already know that the Touchsmart tm2 will be priced starting at $949.
Flickr UserHP_PC