Photoshop in Ads
Should Photoshop Be Banned in Ads?
While removing your own imperfections in Photoshop may not be so controversial, the use of Photoshop in ads is becoming quite the discussion. So much so, in fact, that the US is moving to ban the use of Photoshop in cosmetics ads, starting with an agreement with Procter & Gamble. P&G was ordered to remove a CoverGirl mascara ad that contains "enhanced postproduction," which depict a finished product that isn't achievable by normal women. Meaning, even if you use its mascara, your eyelashes will never look as good as the model's.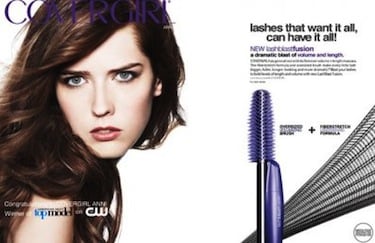 The argument against augmenting photographs in ads boils down to false advertising. National Advertising Division director Andrea Levine says, "You can't use a photograph to demonstrate how a cosmetic will look after it is applied to a woman's face and then — in the mice type — have a disclosure that says 'OK, not really.'"
The US isn't the first country to ban ads with too much Photoshop — the UK recently forced L'Oréal to take down two ads in which Julia Roberts and Christy Turlington were depicted as "too perfect."
What do you think of the recent movement to ban Photoshop in ads — agree or disagree?